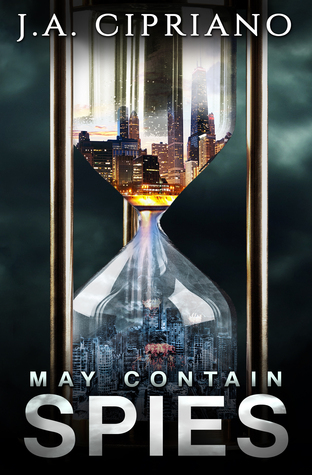 …with one spy here, and one spy there…
Can't help but sing this little (OK, a bit altered but still!) children's tune after reading book that I'll be hosting on the tour on April 22nd 🙂
I'm talking about "May Contain Spies" by J.A. Cipriano 🙂
This one was so much packed with action, that I caught myself holding my breath for pretty long periods of time and pretty much had to take a break from time to time to prevent suffocation!
Imagine a sixteen years old girl, minding her own business, going to high school, living through probably the first, pretty innocent crush (oh, how handsome he was! but speak to him? are you kidding?). Spending time chatting with her BFF, just like regular teenagers do. Working at her Mom's store after school…
…And then out of the blue something happens and nothing is normal for her anymore. She finds out creepy and freaky secrets about herself, her life and her… Mother? From that point on – nothing is as it seems, and nothing seems certain…
What a story!!! Page turner as they come, forget the double crossing, I think if I counted correctly, there was a tripple crossing spy over spy over good guys, back to bad… and the bad, are they really bad? And – just as in real life world – who actually is the "good guy"? Most common vowel was "o" and the fave expression: "oh no!" sometimes replaced by: "no way", leading to question "now what?"
Of course the question was rhetorical, for even as crazy as I might seem (talking to the book? surely I'm not the only one????) – I do not expect them to answer back (that'd be creepy 😮 )
Absolutely (and as I mentioned – pretty literally) breathtaking, engaging and fast paced YA mystery!!!!
And my only complaint here (if you can call it as such) is that this book ended at all! I mean – hello? Part two any time soon? Please????